our Maple Ridge Dentist Services
Initial Dental Visit
Your initial visit to our Maple Ridge Dentist Office is spent assessing the current status of your oral health. For a new patient exam and hygiene appointment, we need about an hour and a half; however, if you have not seen a Dental Hygienist in a long while it may take longer and may require more than one visit.
Upon your initial visit you can expect the following:
First, you will meet dentist Dr. Quadir and talk about your concerns and any questions you may have.
She will have one of her assistants take a series of digital x-rays to check for cavities and a full jaw panorex x-ray to assess bone loss and other issues.
Cedar Ridge Dental will use the collected x-rays to do a complete, comprehensive dental exam that includes charting of all your present dental work.
The complete exam is necessary to know and understand the history of your individual mouth.
She will note any new issues such as cavities, broken teeth and other concerns.
She will also perform a head and neck oral cancer exam.
Once Dr. Quadir has completed her complete examination, you will meet one of our gentle and experienced dental hygienists. They will scale your teeth, removing all hard and soft deposits, polish and provide a fluoride rinse. The hygienist will chart any gum recession and conduct dental probing which evaluates bone loss.
Services Offered at our Dental Office in Maple Ridge
Endontics or Root Canal
What is a root canal?
A root canal is one of the most common dental procedures performed, well over 14 million every year. The simple treatment can save your natural teeth and prevent the need of extractions.
At the centre of your tooth is pulp. Pulp is a collection of blood vessels that helps to build the surrounding tooth. Infection of the pulp can be cause by trauma to the tooth, deep decay or cracks and chips. Symptoms of the infection can be identified as visible injury or swelling of the tooth, sensitivity to temperature or pain in the tooth and gums.
How is a root canal performed?
If you experience any of these symptoms, the dentist will likely recommend non-surgical treatment to eliminate the diseased pulp. This injured pulp is removed and the root canal is thoroughly cleaned and sealed. This therapy usually involves local anesthesia and may be completed in one or more visits depending on the treatment required.
Dr. Quadir uses the latest up to date rotary endontic system in our Maple Ridge dentist office. She has undergone extensive post-graduate training and therefore reduces the amount of time and appointments needed to complete the root canal.
Oral Surgery
You and Dr. Quadir may determine that you need a tooth extracted for any number of reasons. Some teeth are extracted because they are severely decayed; others may have advanced periodontal disease, or have broken in a way that cannot be repaired. Other teeth may need removal because they are poorly positioned in the mouth (such as impacted teeth), or in preparation for orthodontic treatment.
The Extraction Process
At the time of extraction the dentist will need to numb your tooth, jawbone and gums that surround the area with local anesthetic.
During the extraction process you will feel a lot of pressure. This is from the process of firmly rocking the tooth in order to widen the socket for removal.
You feel the pressure with pain as the anesthetic has numbed the nerves stopping the transference of pain.
We provide the comfort of having most extractions done in our Maple Ridge Dentist office. Oral sedation is available if required.
Dental Crowns
We replace existing crowns and fillings with restorations that look and feel like your natural teeth. Once a tooth is apparently beyond repair, we can use porcelain or porcelain fused to metal crown to make the smile appear 'as new'. This is an extremely reliable technique for repairing the most severe of dental problems, even permanently replacing missing teeth to offer a complete smile and a functional bite.
Many people have unexplained pain from filled back teeth, which is usually due to hairline cracks in the chewing part of the tooth. Placing crowns on these teeth relieves the pain and allows a return of full dental function for the teeth. In teeth with root canal fillings, crowns can prevent breakage.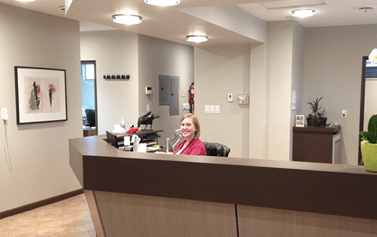 How long does it take to fit a dental crown?
Fitting a crown requires two appointments to our Maple Ridge dentist office. Initially, we will remove decay, shape the tooth and fit it with a temporary crown. An impression is taken and then sent to a dental lab to fabricate the final restoration.
On the subsequent visit we will remove the temporary crown, and then fit and adjust the final crown. Finally, we will cement the crown into place and you have a new beautiful looking tooth.
Dental Bridges
A bridge is a device which fills the gap where teeth are absent. Fixed bridges are bonded into place and can only removed by a dental professional.
If you are missing one or more teeth, you may be aware of their importance to your appearance and dental health. Your teeth work together for many daily functions from eating to speaking. With missing teeth, it�s difficult to do these things. Missing teeth can and should be replaced. Fixed bridges are a great way to restore your dental health and appearance.
How is a bridge made?
The procedure usually takes two appointments to complete. At the first appointment Dr. Quadir will prepare the teeth on either side of the gap by removing a portion of the enamel and dentin. Since the bridge must be fabricated very precisely to ensure correct bite and to match the opposing tooth, impressions of the teeth are taken and sent to a lab where the bridge will be constructed.
The second appointment will be the final insert. The bridge will be cemented to the natural teeth next to the space left by the missing tooth. A pontic (false tooth) replaces the lost tooth.
Porcelain Veneers
Porcelain veneers are thin shells of ceramic that bond directly to the front surfaces of the teeth. They an ideal choice for improving your smile and have become increasingly popular due to their simplicity and versatility.
Placing custom veneers requires a high degree of technical skill as well as attention to cosmetic detail. When bonded to the teeth, the ultra-thin porcelain veneers are virtually undetectable and highly resistant to stains. For strength and appearance, their resemblance to healthy, white tooth enamel is unsurpassed by other restorative options.
Dental Implants
Implants are designed to provide a foundation for replacement teeth that look, feel and function like natural teeth. The implants are tiny titanium posts which are placed into the jawbone where teeth are missing. The bone bonds with the titanium creating a strong foundation for artificial teeth. In addition, dental implants can help preserve facial structure, preventing the bone deterioration which occurs when teeth are missing.
Tooth Fillings
Dr. Quadir provides her patients with the most current, mercury-free composite restorative material when doing fillings in her Maple Ridge dentist office. However, many people still have silver/mercury fillings in their mouths from years past. Tooth coloured restorations create fillings that are not only beautiful but also add strength to weakened teeth. These restorations are aesthetically pleasing and very strong thanks to new bonding techniques.
Zoom! Teeth Whitening
Having a beautiful smile may be even easier than you think. Many people achieve the look they've been dreaming of with our simple bleaching procedure.
If you prefer teeth that are immediately whiter right now Zoom! is the answer. Zoom! In-Office Whitening System uses the propriety technology to whiten your teeth several shades in a little over an hour while you relax at our office. It's ideal for anyone who wants immediate results.
Just about anyone can benefit from tooth whitening. However, treatment may be as effective for some as it is for others. With an oral exam, Dr. Quadir can determine if you are a candidate for this procedure, including a shade assessment.
Contact Cedar Ridge Dental for more information
If you are looking for a professional and caring dentist in Maple Ridge, contact our Maple Ridge dental office at 604-463-3931